As part of the Let's Go Workplace Challenge we have introduced some fun and engaging Leaderboards.
⚙️ You can choose what you want to display by tapping the wheel in the right-hand corner of the Leaderboard.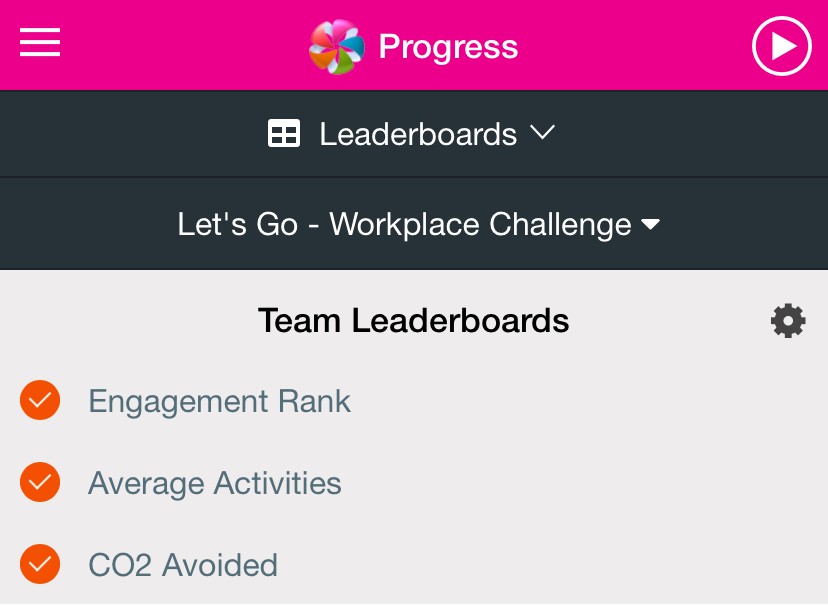 Engagement Rank
This is based on the size of your workplace and the percentage of staff that sign up to Let's Go.
So for example if your workplace has 100 staff members and 20 people sign up to the challenge and track an activity, then your engagement percentage is 20%.
You are then ranked against other similar sized workplaces by percentage.
Average Activities
This is the average numbers of activities completed by the people in your team during the challenge. So whether you travel 5 miles or 1 mile, it's all about the mode of travel you choose to take.
CO2 Avoided
This is the average number of CO2 saved in kilos completed by the people in your team based on the activities that have been completing during the challenge. The further you travel by sustainable means the more CO2 you've avoided, plus you're helping improve the air quality and reduce traffic on the roads.
Prizes
We are giving 5 x £100 charity prizes to the top workplaces based on their engagement rank.
The way to win this prize is to get as many people from your workplace to sign up to Let's Go and complete an activity.
1 prize will be awarded in each of our size categories:
Micro - 10 people or fewer
Small - 11 to 49 people
Medium - 50 to 250 people
Large - 251 to 499 people
Very Large - 500 + people